Greetings SNH'ers
I was listening to a millennial rave about how much money they are saving when using Blue Apron to cook their meals. Having gone through a revelation in cooking with my family (1 gluten free child, 1 vegetarian) in recent years, we really had to start analyzing our eating habits and how much impact it had on our budgets. We no longer eat out like we used to and we also started to cook "real food".
The Blue Apron does have some great meal ideas, but the reality is that these meals are extremely expensive at the estimated $9.99 per serving. These meals are largely dinners and after looking at our budget for the family on a monthly basis, we are at about $3 for our dinners and $7.50 per person per day.
Here is an average family Friday night meal. 2 pizzas serves us pretty well with little waste. Now, these days, we may make a gluten free crust, but you'll get the idea with this info-graphic.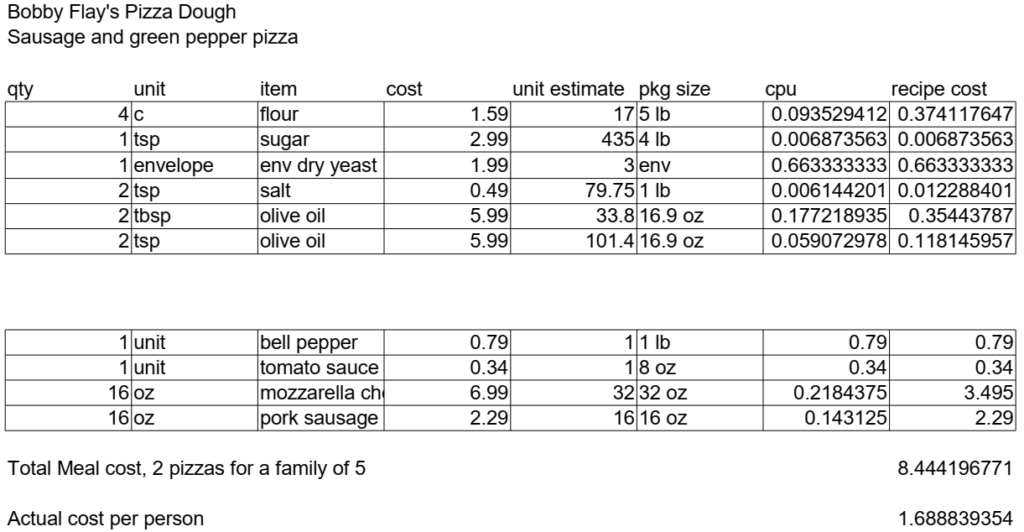 As you can see, the $1.69 per person for this recipe is an excellent way to suggest you roll your own with your local grocery store and forget the boxed meal services. At 9.99 per serving, they are 6 times more expensive. They are costing you massive amounts of money that could otherwise be put into your IRA or other investment vehicle!
I am not saying that you shouldn't enjoy those meals, just don't do it as part of your regular meal plan for the week unless it brings you a certain satisfaction that you can't get by heading to the grocery store and sourcing the ingredients yourself. They do often have unique ingredients and flavors that you may not stock in your pantry. I find however, that as you cook more, your pantry grows with many of the items that are used in those recipes.